Here at All Animals Veterinary Hospital, we believe in finding a definitive diagnosis prior to instituting a regimen of treatment for your beloved pets.
We provide state of the art in-house advanced diagnostic laboratory and medical equipment. We have the ability to offer you and your pet a more immediate answer to your pet's ailments. Also, we utilize on offsite diagnostic centers for more advanced diagnostics like: MRI, CT scan and Fluoroscopy.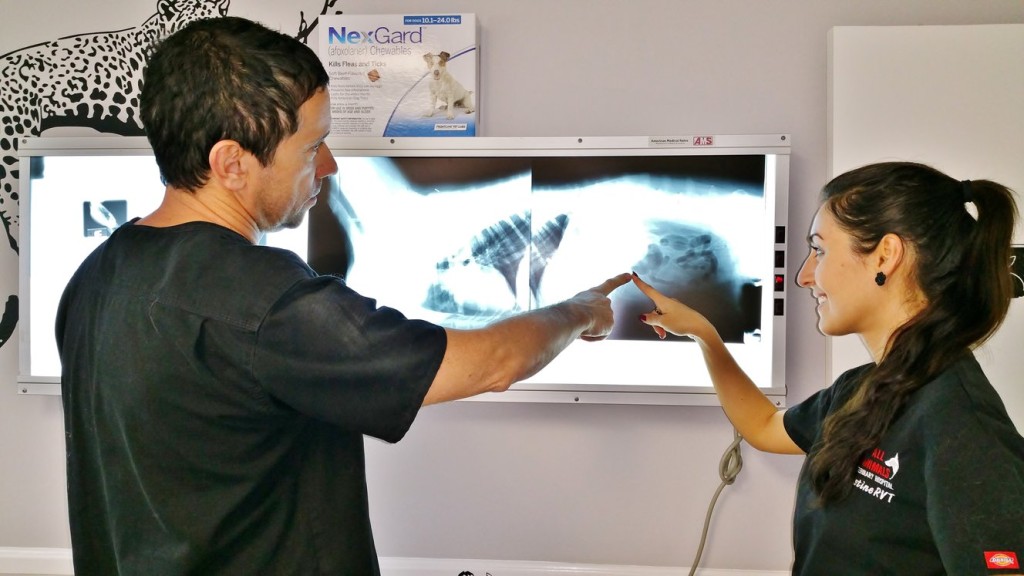 Dr. Molnar and Cristine, RVT, collaborating
Diagnostics provided
Full in-house veterinary laboratory diagnostics including: hematology, cytology, parasitology, radiology, ultrasound, rigid and flexible endoscopy.
Radiology
Radiography is an important part of diagnostic imaging in veterinary medicine. The radiology in small animal hospital performs thousands of studies every year on dogs, cats, and exotic pets. X-ray images (radiographs) allow us to examine the body for injury or disease. Not only used for bones, radiographs provide examination of the heart, lungs, and abdominal organs. Radiography is often the first line of diagnostic imaging with which a veterinarian can either make a diagnosis, or direct the need for further imaging. It is quick, painless, and economical.
In certain cases the images can be evaluated by a Board Veterinary Radiologist for quality control. This adds an advanced benefit to serve the medical needs of our patients, and providing a higher standard of services for our clients.
Contrast Studies
Gastrointestinal contrast studies using barium sulfate and iodine preparations. We perform esophagraphy, upper and lower gastrointestinal studies, and urinary tract studies. When we determine the motility of the GI tract we reach for fluoroscopy. Fluoroscopy is an imaging technique that uses X-rays to obtain real-time moving images of the internal structures of a patient through the use of a fluoroscope
Ultrasound
Ultrasound is completely painless for your pet and usually noninvasive. A lot can be learned about your pet's health in a very short amount of time. To most pet owner's ultrasound might sound very foreign and a bit pricey but the benefits of ultrasound in Veterinary medicine are many.
The majority of patients do not require anesthesia, while others may require a light sedative to promote relaxation. This is usually determined by not only the pet's demeanor but also the desired outcome of the ultrasound.
With the help of ultrasound many other invasive diagnostic procedures can be performed like organ biopsies and collection of other diagnostic samples. The final diagnosis of heart disease in mammals and birds is performed by thoracic ultrasound.
Endoscopy
Endoscopy is one of the most advanced diagnostic tools used in both veterinary and human medicine. It allows us to visualize pathology processes that cannot be visualized any other way than invasive surgery. Many disease processes can be diagnosed only by endoscopy. Endoscopy is also very helpful in retrieving foreign bodies without surgery. We perform non-invasive endoscopic surgical procedures which are less painful than routine surgeries, quicker with a faster healing time.
Dr. Attila Molnar continuously attends extensive endoscopy courses both in dogs and cats as well as in birds and exotics.
Our goal is to become a mostly endoscopic surgery center.
The most common types of endoscopy procedures performed in veterinary medicine include:
Rhinoscopy

– allows examination of the nasal passages

Esophagogastroduodenoscopy (Upper GI endoscopy)

– allows examination of the esophagus, stomach and upper GI tract

Colonoscopy (Lower GI endoscopy)

– allows examination of the colon and lower GI tract

Bronchoscopy

– allows examination of the lower (lung) and upper airways

Otoscopy

– allows examination of the deep ear canals

Cystoscopy

– allows examination of the bladder and lower urinary tract

Arthroscopy

– allows examination of the joints and is often used for surgical procedures

Laparoscopy

– allows examination of the abdominal cavity and internal organs, often used as an alternative to open surgery for taking biopsies and some minor surgeries

Thoracoscopy

– allows examination of the chest cavity.
Hematology & Blood Chemistries
All Animals Veterinary Hospital offers full in-house diagnostic capabilities with our state-of-the-art Blood Analyzers. The short turnaround time helps us give quick answers to the symptoms of our patients so we can institute a treatment regimen as soon as possible.
Dr. Attila Molnar took advanced avian and exotic hematology courses. Birds and reptiles have nucleated red blood cells, their complete blood counts cannot be performed by hematology analyzers, and they must be read manually through microscopy. It takes gained experience and expertise to read them properly.
Urinalysis
A urinalysis evaluates the physical and chemical composition of the urine of cats and dogs. It can provide important diagnostic information about conditions of the urinary and genital tracts in pets, as well as about a number of systemic diseases such as diabetes, liver disease, Cushing's disease, etc. The urinalysis is an important part of the diagnostic evaluation for many diseases and is also an integral part of a thorough preventive medicine program for cats and dogs.
Urinalysis results can be used to guide treatment decisions, and in some cases, can indicate the need for more specialized diagnostic tests (such as a culture and sensitivity tests).