A message from All Animals about COVID-19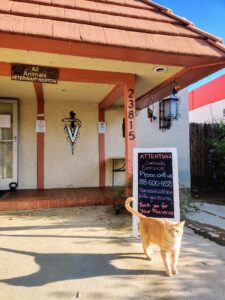 [Last Updated: March 16, 2022]
COVID-19 Protocols at All Animals Veterinary Hospital
Please note that we are still offering curbside-only services at this time. Please call or text us when you arrive in the parking lot for your appointment and let us know which car you are in.
Due to the high volume of calls, we may not be able to assist you immediately. Please understand that we are doing our best to respond to every inquiry. We are only able to accept a limited number of appointments per day, to ensure that your pet receives the best medical comprehensive treatment, while also having stricter sanitation protocols before and after each patient. If your pet is having a medical emergency, please note that we may refer you to a local 24 hour emergency care facility. 
Due to high caseload and COVID limitations we need to adopt strict no-show and short notice cancellation policies. ALL new clients that want to make an appointment will need to set up a medical record over the phone and will be charged in advance for an examination fee. For no-shows or cancellations within 24 hours of the appointment, the examination fee is non-refundable. All appointments that are 15+ minutes late will be considered a no-show appointment and must be rescheduled.
Dogs must have a leash/collar on at all times. All other animals (cats, birds, reptiles, small mammals, etc) must be brought in a carrier.

We may not be able to assist you if your pet is not restrained safely in a carrier.