Protocols at All Animals Veterinary Hospital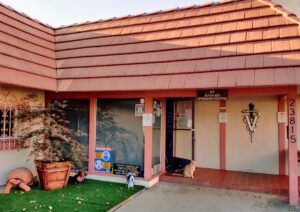 [Last Updated: July 2023]
In order to continue providing essential veterinary services, we have implemented these hospital policies:
Please understand that we are doing our best to respond to every demand and inquiry. We are only able to accept a limited number of appointments per day for having 1 veterinarian available, to ensure that your pet receives the best medical comprehensive treatment, while also having stricter sanitation protocols before and after each patient. If your pet is having a medical emergency, please note that we may refer you to a local 24 hour emergency care facility.  

Due to the high volume of calls, we may not be able to assist you immediately.
We are transitioning from curbside appointments. Please arrive at your scheduled appointment time and remain in your car unless otherwise instructed. 

We will let you know when a room is ready for you and your pet. 

You may also choose to drop-off your pet and pick up at a later time in the day.

(Please let us know if you are running late or may need to reschedule your appointment).
Please make sure that you have your mobile device with you when arriving for your scheduled appointment. Please call or text us that you have arrived and which vehicle you are in so we may locate you. We will obtain a medical history of your pet over the phone.

Dogs must have a leash/collar on at all times. All other animals: cats, reptiles, small mammals and birds must be brought in a carrier. We may not be able to assist you if your pet is not restrained safely in a carrier. This may result in having to reschedule your appointment for a later time. 

Since we have limited business hours to increase our disinfecting protocols, we ask that you request your prescription and pet food refills at least 3 days in advance. 
Additional information:
Phone consultations may be provided if necessary for an additional fee. We are not able to provide house calls at this time. 
To decrease the high call volume, should you have any questions, please do not hesitate to email us directly at [email protected] or text us at (818)600-6414 during business hours of 8am – 6pm weekdays. We have limited availability on a few Saturdays a month. The office is closed Thursdays & Sundays. You may also use the PetDesk phone app to request appointments and access your pet's medical records. 
For urgent needs, please visit your local 24 hour veterinary emergency or visit ACCESS Specialty in Woodland Hills (818)887-2262 or Conejo Valley Veterinary Hospital in Thousand Oaks 805-495-4671

Additional referrals on our website: https://allanimals-veterinary.com/list-of-emergency-veterinary-hospitals-and-clinics-in-los-angeles/
We thank you for your patience, kindness and understanding.
Please note: If you do not follow these protocols, we may not be able to help your pet.
---
Appointment/Cancellation/No Show Policy
We would like to Thank You for entrusting us to provide veterinary medical care to your pet's. We value each one of our patients and strive to provide the best care possible in the most safe and comfortable setting. Please understand that when you schedule an appointment, we are reserving time for your pet's needs. We kindly ask that if you must modify a scheduled appointment, please give us at least 24 hours notice.
This courtesy makes it possible to give your reserved time to another patient in need of medical care. We know that your time is valuable. If you are unable to keep your appointment we ask that you cancel at least 24 hours in advance. If this is not possible, call as soon as you can so that another patient can be given your appointment time. 
Clients that are late for any appointment for their pet's may be asked to reschedule to the next availability of the doctor. 
We understand that occasional missed appointments can occur for a variety of reasons. When you  miss an appointment without canceling, another pet in need of medical care that could have been seen in your place is delayed unnecessarily or referred elsewhere. We track missed (non-canceled) appointments. A "No Show/Late Cancelation" is defined as missing an appointment without canceling at least 24 hours before scheduled time. There will be a non-refundable fee charge for missed or non-cancelled appointments less than 24 hours. 
Payment is due in full for all services provided at the time of service for the visit. A down payment for surgeries and hospitalizations are taken the morning of the procedure and any unused deposit amount will be refunded to your original card payment or can be placed on your account for future use. 
Please leave us a detailed message, text message or email if modifications are required.
We thank you for your understanding.
---
Code of Conduct
Professional. Ethical. Compassion. Welcoming. Respect. Safe.
Here at All Animals, we strive to provide a safe and welcoming environment for our clients and our team members who work hard every day to serve our patients.
Aggression towards team members or visitors is not allowed.
We will not accept the following behaviors:
Verbal abuse, malicious or harmful statements about others

Profanity or disrespect

Any form of harassment

Discriminatory comments or actions

Intimidation tactics and/or making threats

Allowing your pet to intimidate or threaten a person or another pet

Public disclosure of another's private information

Suspicion of being under the influence of alcohol or behavior-altering drugs

Failure to comply with requests of our team, including leashing/restraining  




your pet for safety, referral recommendations and/or financial discussions
 In the event that your behavior is problematic, we reserve the right to discontinue services immediately. This policy is strictly enforced and non-compliance will result in corrective measures being taken, which may include being asked to leave the property and the possible involvement of law-enforcement.

Thank you for your cooperation and understanding!