Dental disease has been shown to be a major contributing factor to many serious health problems, including liver, kidney, and heart disease. Studies show that pets with healthy mouths have less health issues and longer quality lives than those pets with severe dental disease. Routine dental care is an essential part of preventative healthcare.
How many times a day do you kiss your pet? Since they do not have opposable thumbs like we do or the training to brush their teeth daily, they rely on us to provide the best compassionate care for them.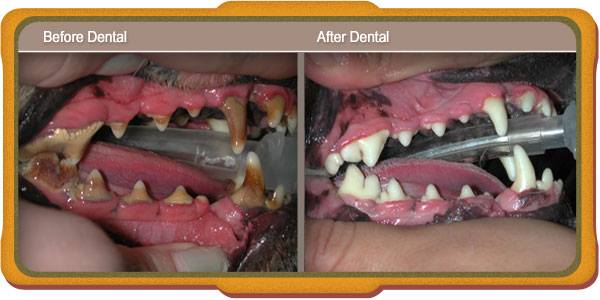 The cause of gum disease is the same in cats and dogs as it is in people. Dental disease is one of the most overlooked areas in pet health.
Periodontal disease is an infection of the tissue surrounding the teeth and below the gum line that takes hold in progressive stages such as plaque produced by bacteria, calcified tartar, and inflammation of the gums known as gingivitis. In the final stages of periodontal disease, the tissues surrounding the tooth are damaged, the bone erodes and the tooth becomes loose which is all extremely painful and uncomfortable.
A pet's poor dental health can lead to decreased appetite, lack of energy, weight loss and shorter life span. Professional deep cleaning will be needed to manage and prevent this from occurring.
We use the latest equipment, tools and training to provide the same level dental care for your pets that you would expect from your own dentist.
Dr. Attila Molnar and his staff at All Animals Veterinary Hospital provide quality dental care with value since we understand how much your pet means to you. We constantly improve our knowledge and skills to offer you and your pets the best veterinary medicine has to offer.
We offer comprehensive dental packages that include:
A relaxed and comfortable experience for your pet as they are expected for their planned  procedure and stay with us for the day

A comprehensive wellness exam

A tailored pre-anesthetic blood panel

Full monitored anesthesia and monitoring

Complete mouth and jaw digital radiography

Hand Scaling above and below the gum line as well as ultrasonic cleaning

Analgesia and pain management

Quiet and calm monitored recovery in our post-op recovery room

Optional overnight hospital stay
We also provide complete dental care for rabbits, rats, chinchillas, with specifically designed instruments for proper teeth cleaning and surgical treatment if necessary on diseased teeth.
What you and your pet can expect during a dental cleaning
Admit appointment with Dr. Molnar

Pre-anesthetic bloodwork

Pre & Post anti-inflammatory, pain medication, and antibiotics if necessary

IV fluids given to hydrate and stabilize blood pressure

Heart rate monitoring

Blood pressure monitoring

Tartar removal

Gum evaluation

Ultrasonic scaling

Polishing of teeth

Oravet application if requested

Digital x-ray if necessary

Any necessary extractions

Recovery in our intensive care unit (monitored by Dr. Molnar)

Complimentary nail trim

Veterinarian or technician discharge instructions

Home dental care instruction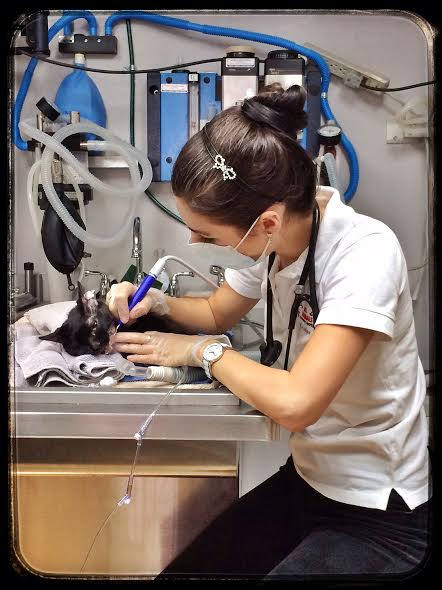 Recommended home care
The goal is to control plaque and tartar buildup

Daily brushing with veterinary products are strongly encouraged

In general, feed hard foods that do not stick to teeth as much as soft foods

Use chew toys to provide abrasive action and strengthen periodontal ligaments

(toys should be softer than teeth to prevent trauma
Anesthesia-free dentals:
We do not support or provide anesthesia-free dentals because we cannot thoroughly clean the sub-gingival space properly without anesthesia. This is a Non-Professional Dental Scaling procedure. We understand that pet owners are naturally concerned by the use of anesthesia during a procedure. Initially, a complete oral examination (an integral part of a professional dental procedure) is achieved from a calm and sedated patient where the surfaces of the teeth facing the tongue can be thoroughly examined, and where areas of disease that are usually missed can be discovered. Unfortunately, most anesthesia-free dental procedures only remove the dental plaque from the crown of the tooth, not addressing the root of the tooth where the medically important dental disease is accumulating. This anesthetic-free procedure can be both frightening and painful to your loved one let alone it could result in injury of oral tissues in the patient. Not mentioning that if proper polishing is not done after the tartar removal, the micro abrasions caused by the hand scaler will increase the deposition rate of dental tartar/bacteria accumulation. Furthermore, anesthesia free dentals are performed without dental radiography masking most dental diseases to the untrained eye causing major loss of dental integrity.
Anesthesia will never be 100% risk-free. However, here at All Animals Veterinary Hospital, we educate and increase our knowledge and technical experience by attending various veterinary continuing education opportunities and operate with recent, up to date anesthetic monitoring equipment that minimize risks, and perform dental service procedures safely.
To learn more about the proper methods of thoroughly examining and cleaning your pet's teeth, click here.
Please feel free to call us to speak with a skilled professional about dental health care options for your pet!